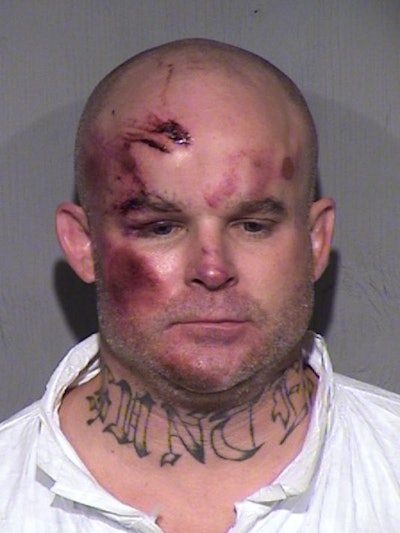 The man taken into custody after a shooting and crime spree in Mesa that stretched over four locations and left five injured and one dead on Wednesday is Ryan Giroux, police confirmed.
Giroux was taken into custody a few miles from the Main Street and Alma School Road shooting scene where the manhunt for him began at about 8:30 a.m, AZCentral reports.
Police said during a briefing that Giroux was finally located in a vacant condo at Dobson Road and 8th Avenue. He was spotted on a balcony and was apprehended inside the condo shortly after 1 p.m.
Mesa SWAT subdued Giroux with a stun gun then arrested him without major incident, police said. He emerged from the condo building in handcuffs and wearing a white, hooded jumpsuit. He was accompanied by several heavily armed police officers who placed him into a gray pickup truck and took him to Banner Desert Medical Center for treatment.
This isn't Giroux's first run-in with the law. According to ABC15, Giroux has been arrested several times in three different states. He has been arrested at least seven times and has spent time in Arizona prison twice.
The first time for three years from 1994 to 1997. And then another six years from 2007 to 2013.
Back in 1994, Giroux served time for burglary and theft.
Just over a year ago, he was released after being convicted of attempted aggravated assault and misconduct involving weapons.
In that case, Giroux was caught stealing chips from a gas station. When the police arrived, he got into a fight with officers and tried grabbing for a gun, court records show.
In addition to those two Arizona prison terms he had arrests in both Washington and California for assault with a deadly weapon, theft, and drug possession.
As far as his prison disciplinary record, there are about a dozen violations for drugs, weapons, and contraband.
Giroux is also a known white supremacist who has "skin head" tattooed above his eyes.
The Southern Poverty Law Center also reported that Giroux is a member of a violent and racist group called Hammerskin Nation.