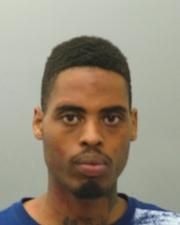 A man who participated in a protest outside the Ferguson police station Wednesday night returned to the area and fired shots — possibly at someone other than police — that wounded two officers, authorities said Sunday.
Jeffrey Williams, 20, was charged with two counts each of first-degree assault and armed criminal action, and one count of firing a weapon from a vehicle. He was in custody, with cash-only bail set at $300,000, the St. Louis Post-Dispatch reports.
"It is possible that he was firing at someone other than the police," St. Louis County Prosecuting Attorney Robert P. McCulloch said at a news conference Sunday. He said civilians had been situated between Williams, who fired from a car, and the officers who were wounded.
McCulloch said Williams admitted firing the shots and indicated they were not aimed at police. Some of the statements are supported by physical evidence, and some aren't, he said.
McCulloch said police used a search warrant to recover a .40-caliber handgun that matched spent cartridges recovered in the area from which the shots came.
The officers were hit when shots were fired from some distance away just after midnight Thursday.
A St. Louis county officer, 41, was struck in the shoulder and a Webster Groves, Mo., officer, 32, was hit in the cheek as they worked a security line outside the Ferguson police station on South Florissant Road. Both were treated and released that morning from Barnes-Jewish Hospital.