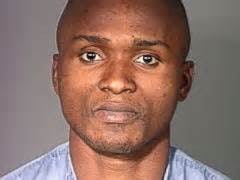 A homeless ex-convict who was killed by Los Angeles police was wanted for violating probation in a bank robbery case, a U.S. marshal said Tuesday.
The federal warrant was issued Jan. 9 for Charley Saturmin Robinet after he didn't provide monthly reports to a probation officer in November, December and January, Deputy U.S. Marshal Matthew Cordova said.
A law enforcement official identified Robinet, 39, as the man police killed Sunday on Skid Row. The official wasn't authorized to speak publicly and talked to The Associated Press on condition of anonymity.
French authorities came forward late Tuesday and said Robinet is a law-abiding citizen who is "alive and well in France." The man killed during an altercation with police had stolen Robinet's identity and used it to acquire a French passport to come to the United States in the late 1990s, the Los Angeles Times reports.
Axel Cruau, the French consul general in Los Angeles, said the identity theft was discovered after the man was convicted of the bank robbery and officials began preparing the paperwork to deport him, thinking he was a French citizen. French officials notified their U.S. counterparts when they realized the man was not the real Robinet but did not know what happened after that.
On Wednesday, a spokeswoman for U.S. Immigration and Customs Enforcement said the man was actually from Cameroon, the francophone nation in Central Africa.