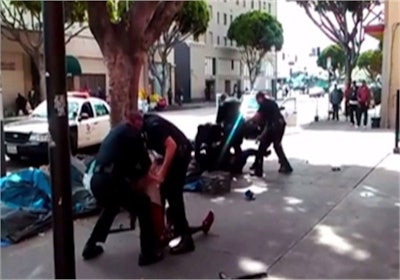 The 39-year-old man shot dead by Los Angeles police officers on skid row Sunday was convicted 15 years ago of an armed robbery at a Thousand Oaks, Calif., bank and sent to federal prison, according to records and law enforcement sources.
Two sources familiar with the investigation identified the homeless man as Charley Saturmin Robinet. So far the coroner's office has said only that he is a 39-year-old man, the Los Angeles Times reports.
In 2000, Robinet, described as a French national, robbed a Wells Fargo Bank branch and pistol-whipped one of the tellers. He and the other suspects then led police on a chase through Ventura County, where they were arrested after striking a police car and running over a spike strip. Robinet attempted to run from police after the car chase but was caught and was found to have $33,500 on him, according to prosecutors.
Federal records show he was convicted of bank robbery and sentenced to 15 years in prison. Robinet was released from a federal facility in May, according to online federal prison records.
The LAPD has said Sunday's shooting occurred after officers responded to a 911 call about a robbery. The department said the man fought the officers and was shot after grabbing a probationary officer's holstered pistol.