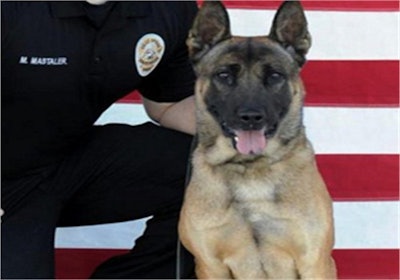 A 4-year-old Southern California boy has lost part of his leg after he was attacked by his father's police dog over the weekend, reports the Daily Press.
According to the GoFundMe page created by a family friend, the boy "was seriously injured" when he was attacked by the dog on Sunday afternoon.
"The injury caused severe damage to the arteries and veins in his leg," the friend said on the GoFundMe page. "As a result of this terrible accident, [his] leg had to be amputated a few inches below the knee, and he will receive a prosthetic in its place."
Authorities said the boy was attacked on Sunday around 4:30 p.m. at his home. The boy's father is a Rialto (Calif.) Police Department officer whose police K-9, a Belgium Malinois named Jango, was in the backyard. While the officer was upstairs, the boy opened the sliding glass door and wandered into the backyard, where the dog attacked. Neighbors heard the boy screaming and were finally able to pry the dog's mouth off of the boy's leg.
Rialto Police Capt. Randy DeAnda said Jango is being kept in quarantine at the department's dog training center for at least 10 days per policy, and the results of the Rialto Police Department's investigation will determine the dog's fate.