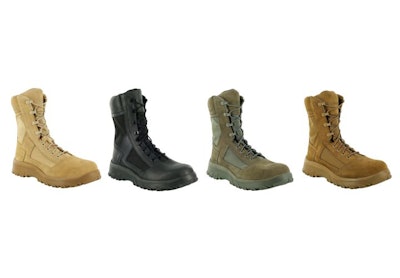 Warson Brands, manufacturers of quality military and tactical footwear and exclusive licensee for Reebok military and tactical boots, and W. L. Gore & Associates, inventor of GORE-TEX fabric, recently announced a new line of waterproof military and tactical footwear for hot weather, the Reebok KRIOS Series.
Made in the U.S.A. and scheduled to hit stores in spring 2015, the new Reebok KRIOS is the only tactical boot that keeps feet cool and comfortable in hot environments and dry in wet conditions, according to the company.
"This is a new GORE-TEX footwear technology from Gore," says Bill Candy, product manager at Gore. "GORE-TEX Extended Comfort Technology provides unrivaled breathability in hot weather and has been proven in lab tests to keep feet cool and comfortable in hot weather."
"We've been collaborating for years with Gore to develop and test this product," says John Duvic, Warson Brands Corporate VP of Product Development. "Our goal was to construct a waterproof, lightweight boot that is comfortable in hot conditions and strong enough for heavy duty use; the Reebok KRIOS achieves that goal."
Fused protective layers reduce bulk, minimize absorption, and dry quickly, preventing added weight in wet conditions. The KRIOS'S construction results in a boot that absorbs 90% less water when compared to non-waterproof boots.
The KRIOS is built to thrive under the harshest conditions demanded by military and tactical duty professionals. The MeraMAX outsole provides four times the abrasion resistance of rubber. This, plus a rugged nylon and leather outer shell, and GORE-TEX exoskeleton, means every layer of the KRIOS is built to last.
The new Reebok KRIOS Series is available in an 8-inch mil-spec boot in desert tan, black, sage green, and coyote. Features include a speed lacing system and electrical hazard protection.
Reebok military and tactical footwear is available now through select duty uniform retailers throughout the United States. For more information about the Reebok KRIOS, visit ReebokWork.com/KRIOS.
Warson Brands, also known as Warson Group, Inc., is headquartered in St. Louis, MO. Warson Brands is a global manufacturer and marketer of military, tactical, and industrial safety footwear since 1989, and provides a variety of work and duty footwear under the world's finest brand names, Reebok, Rockport Works, Florsheim, Iron Age, Grabbers, and Knapp.
For more information, visit www.warsonbrands.com.
Read more about new products on the show floor and at the range at SHOT Show 2015.