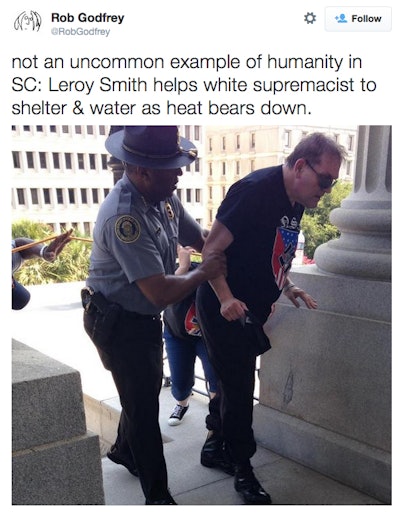 White-supremacist groups and African-American demonstrators clashed in Columbia, S.C., on Saturday, resulting in at least five arrests and seven people taken to hospitals as tensions — and temperatures — flared following the recent decision to remove the Confederate flag from the Statehouse grounds.
But it was the powerful image of a black police officer assisting a man wearing a black T-shirt bearing a swastika and struggling in the heat that resonated online.
In the photo, the officer, Leroy Smith, director of the South Carolina Department of Public Safety, is seen holding the arm of the unidentified protester as he helped him up the stairs and out of the sun. According to the National Weather Service, temperatures in Columbia hit a high of 98 degrees Saturday.
The image was uploaded to Twitter by Rob Godfrey, South Carolina Gov. Nikki Haley's deputy chief of staff. And it quickly went viral, Yahoo reports.