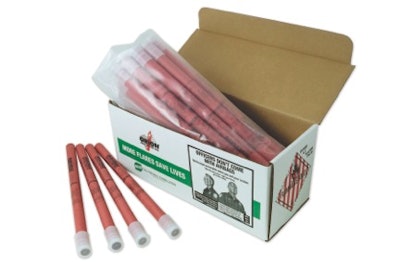 Orion Safety Products has introduced a new, patented, Eco-Friendly Safety Flare. The new flare is made to be safer, easier to use and store, and better for the environment. When used in conjunction with police light bars, Orion flares maximize the size of the safety zone at the scene of a roadside emergency.
According to the company, the new flare has a number of distinct advantages compared to the traditional safety flare. First, the new formulation eliminates 100% of the potassium perchlorate in the flare. This means police and other professionals can focus on deployments that maximize roadside safety for themselves and bystanders and not on management practices for controlling this chemical. The new, easy light cap also has no loose red phosphorous, which minimizes sparking and splatter while lighting the flare. These Eco-Friendly Flares are safer to store, since there is no flaking red phosphorous in the boxes. And, the new flares are packed in a re-sealable EZ Store Box with a plastic pouch to ensure maximum shelf life and performance. This new flare replaces Orion's previous flare and is now being shipped to all of Orion's customers.
When asked about the new Eco-Friendly Flare, Jay McLaughlin, President of Orion Safety Products, stated, "We are particularly proud of the new Eco-Friendly Flare as it incorporates a number of product advancements that we have worked on through development and testing for many years. The new product features that we have added are the result of soliciting feedback from a wide range of safety professionals. They told us that they wanted a flare that was easier and safer to use and store, and one that reduced the sparking and splatter of traditional flares. We also wanted to make our flares more environmentally friendly by eliminating the chemical potassium perchlorate. One of the things we're most proud of is that we could accomplish all of the product improvements while fully maintaining the brightness and intensity of Orion flares – and even improving the durability of the signal in wet environments. The new flares provide an equally sized or bigger safety zone as our traditional flares, which are proven to be the best of any roadside emergency signal device."
Independent research conducted by Penn State University measured the impact of using flares in addition to light bars on safety vehicles. That research determined that the use of flares in addition to light bars increased the safety zone at the scene of a roadside emergency as follows:
Increased lateral separation by 85%
Reduced right lane volume by 95%
Reduced overall traffic speed by 16%
For more information on the Penn State Study or the new Eco-Friendly Flare, go to www.orionsignals.com/professionals.
Orion Safety Products, based in Easton, Md., is a large manufacturer of highway safety flares and U.S. Coast Guard Approved visual distress signals, with manufacturing facilities in Easton, Md.; Peru, Ind.; and Bristol, Pa. Orion's website is www.orionsignals.com.