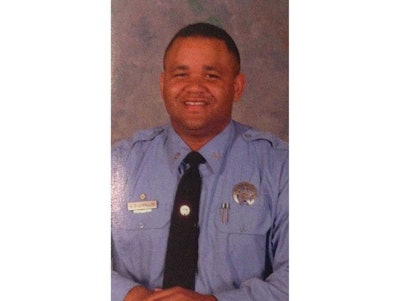 A New Orleans police officer was arrested and placed on emergency suspension after authorities said he deliberately attempted to leave behind evidence while investigating an aggravated assault case involving the suspect in Officer Daryle Holloway's death.
Officer Wardell Johnson, a 12-year veteran of the police department initially arrested cop killing suspect Travis Boys on an aggravated assault charge June 20, hours before Holloway was shot and killed in his police SUV, NOLA.com reports.
"Officer Johnson deliberately attempted to leave the .40 caliber (the same caliber used to kill Officer Holloway) casing on the scene of the reported aggravated assault and not process it for evidence," a NOPD news release issued Monday night (July 6) said.
"In addition, detectives learned that Officer Johnson recovered a box of unused .40 caliber bullets at the scene and did not process it as evidence in the investigation."
A spent .40-caliber shell casing -– the same caliber weapon used to shoot Holloway –- was found near the front porch of Boys' neighbor's house hours before the officer's death, according to a police report detailing Boys' domestic assault arrest.
Johnson has been charged with one count of obstruction of justice, one count of malfeasance in office and one count of theft, police said.
Police said Johnson told detectives he did not remember where he left the box of bullets and could not say why he did not report the box as evidence. Shortly after the interview, the release said, detectives saw Johnson removing the box from his vehicle and throwing bullets out of the window.