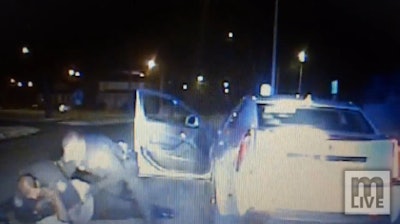 A city so broke it's had to force extra taxes on property owners to settle police-brutality lawsuits now faces more legal action — from one of its own police officers.
Inkster, Mich., police officer Phillip (Chuck) Randazzo, 44, is suing his employer after it released video and suspended him in connection with the highly publicized Floyd Dent arrest and subsequent allegations of police brutality, according to the complaint filed Monday in Wayne County Circuit Court.
Named as defendants in the lawsuit are the City of Inkster, City Manager Richard Marsh and Police Chief Joe Thomas. Marsh declined to comment on any of the elements of the case. He said he wasn't aware of the lawsuit and wouldn't comment on pending litigation. Thomas' receptionist said he was out for a week and unavailable for comment.
Dent of Detroit was beaten on the head about 16 times during a Jan. 28 traffic stop by William Melendez, an Inkster officer who was eventually fired and criminally charged after WDIV (Channel 4) aired the dashcam video in March. Randazzo had kicked Dent twice as several officers worked to get him into handcuffs. But an internal investigation under the previous police chief, dated two days before she resigned, found that his use of force was justified given the circumstances.