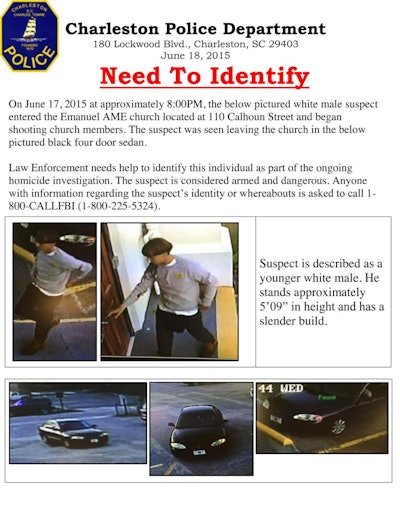 A massive manhunt is underway in the South Carolina Lowcountry for a man who killed nine people in one of Charleston's oldest churches Wednesday.
A white man, reportedly in his early 20s, entered the Emanuel African Methodist Church, stayed for nearly an hour during a prayer meeting and then opened fire. Nine people were killed in the historic black church on Calhoun Street in downtown Charleston.
Charleston Police Chief Greg Mullen said in a press conference this morning that he had no doubt the attack was a "hate crime."
The Charleston Police Department has released photos taken from surveillance video that show the suspect and his vehicle. Mullen told reporters he could not offer a make and model on the dark colored sedan because investigators were not certain about what is shown in the video.
The victims of the shooting were six females and three males, Mullen said Thursday morning. He did not give other details about the victims.
"This is a very dangerous individual," Mullen said.
"We want to identify this individual and arrest him before he hurts anyone else," the chief said.
The Associated Press reports Mullen said he had no reason to think the suspect has left the Charleston area, but was distributing information about him and the vehicle around the country.
The FBI will aid the investigation, Mullen told an earlier news conference that was attended by FBI Special Agent in Charge David A. Thomas.
Charleston Mayor Joseph P. Riley Jr. called the shooting "an unfathomable and unspeakable act by somebody filled with hate and with a deranged mind."
South Carolina State House Minority leader Todd Rutherford told The Associated Press that the church's pastor, state Sen. Clementa Pinckney, was among those killed.
Pinckney 41, was a married father of two who was elected to the state house at age 23, making him the youngest member of the House at the time.
The Emmanuel AME church is a historic African-American church that traces its roots to 1816, when several churches split from Charleston's Methodist Episcopal church.
One of its founders, Denmark Vesey, tried to organize a slave revolt in 1822. He was caught, and white landowners had his church burned in revenge. Parishioners worshipped underground until after the Civil War.
UPDATE:
Dylann Storm Roof, 21, of Columbia, the suspect in the mass shooting at a Charleston church Wednesday night, was arrested near Shelby, N.C., Thursday morning, reports the Charlotte Observer.
Capt. Joel Shores of the Cleveland County Sheriff's Department said Roof was arrested at U.S. 74 and Plato-Lee Road, west of the city. He says he was told that another driver pulled behind the car and called in a tip.