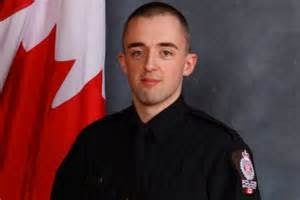 A 35-year-old Edmonton (Alberta) Police Service officer in the hate crimes unit was shot to death in a southwest Edmonton suburb on Monday night, in an act city Police Chief Rod Knecht described as "a tragedy of unspeakable proportions." A second officer was injured, but is expected to make a full recovery.
Knecht identified the officer who was killed as Const. Daniel Woodall, 35. Knecht identified the injured officer as southwest division patrol Sgt. Jason Harley, 38, a 15-year member of the EPS.
Knecht said the shooting happened at about 8 p.m., when several officers came under fire while executing a warrant for criminal harassment at a home in the Ormsby area, around 182nd Street and 62A Avenue. Knecht said the shots were fired from inside the home as the officers attempted to enter the residence.
After the shooting, a large fire started at the house where the shooting took place, burning the structure to the ground.
The suspect was last seen inside the burning home. Knecht said no suspects were in custody, but said he didn't believe there was a further risk to the public.
Knecht told the Edmonton Journal he couldn't speak to the possible involvement of the suspect with the Freemen on the Land or "sovereign citizen" movement, but may be able to address that at a press conference slated for 8:30 Tuesday morning. The Freemen on the Land are considered to be anti-police and anti-government, and are labelled by the FBI as a domestic terrorist movement.
Knecht said Const. Woodall was originally from Great Britain and joined EPS after immigrating to Canada. He was in patrol before joining the hate crime unit.
Woodall is the first Edmonton Police Service officer killed in the line of duty in Edmonton in 25 years.