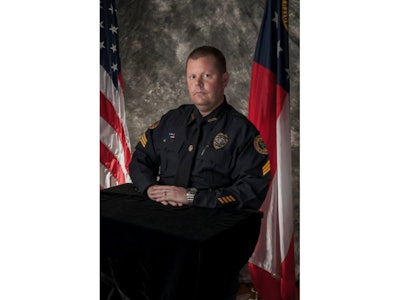 Sgt. Nathan Ernst of the Holly Springs (Ga.) Police Department has been hailed a hero for saving the lives of two citizens while on duty over the weekend, the agency said in its press release.
Around 8:50 p.m. May 30, Ernst responded to a request to assist the Cherokee Sheriff's Office, which was notified about a resident found unconscious in an abandoned home.
Ernst arrived onto the scene and found a 24-year-old man lying on the floor with labored breathing, Holly Springs police told the Patch.
The officer was informed the victim was suffering from a heroin overdose and upon hearing the news, Ernst administered naloxone to the victim. The man regained consciousness on the scene and was transported to an area hospital for treatment.
A little over two hours later, Ernst was dispatched to a house fire around 10:53 p.m. within the city. Dispatched advised the officer that a disabled resident was trapped inside the home -- and her mother who refused to leave her side, said Holly Springs police spokesperson Sherron Conrad.
The sergeant arrived at the house to find the roof and door engulfed in flames. Both he and a deputy with the sheriff's office entered the house and found a bed-ridden woman inside the burning home.
They both carried the resident outside where she was evaluated by EMS personnel on the scene.