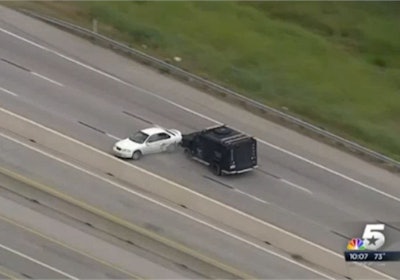 A Fort Worth police officer has been removed from the SWAT team and a second officer has been stripped of his badge and gun while the police department investigates their roles in a highly-publicized car chase last Wednesday, according to multiple law enforcement sources.
The chase dragged on for about two hours until a SWAT member disabled the car in Arlington along Interstate 30 near Six Flags Over Texas to end the pursuit.
Officer Dennis Alice was driving a Lenco Bearcat armored vehicle when he performed a "PIT maneuver," or a Precision Immobililzation Technique, to force the driver's vehicle into a spin to end the pursuit.
Fort Worth Police Department policy does not allow officers to do PIT maneuvers and the move was not authorized, sources told NBC DFW TV.
Related: