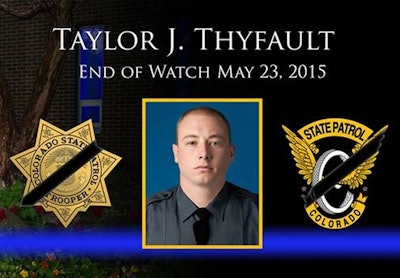 The driver accused of hitting and killing a Colorado State Patrol cadet and injuring a trooper near Longmont last month was formally charged today with 16 counts including first-degree murder and attempted murder, reports the Times-Call.
Christopher Gebers, 27, was charged with first-degree murder with extreme indifference and three counts of attempted first-degree murder with extreme indifference today, according to court documents. First-degree murder is a Class 1 felony and carries a mandatory life sentence without parole. Gebers was also charged with eight other felonies and several misdemeanors.
Colorado State Patrol Cadet Taylor Thyfault, 21, and Trooper Clinton Rushing, 37, were hit on Colo. 66 near Weld County Road 1 at about 8 a.m. May 23 following a police chase that originated in Weld County.
Police allege Gebers plowed into the scene of a separate crash investigation, which Thyfault was attending as part of his training. Police said Rushing and Thyfault were assisting with the unrelated crash investigation and began deploying "stop sticks" in the road when they heard of the high-speed chase coming from Weld County.
The cadet and trooper were standing in between a tow truck and another vehicle when the fleeing car came skidding into the gap, striking Rushing and then Thyfault.
Thyfault died on scene. The U.S. Army veteran was posthumously promoted to trooper. Rushing was taken to the hospital in critical condition.