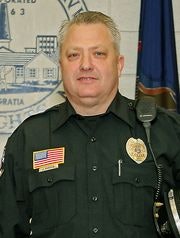 On Sunday May 11, a Dearborn Heights, Mich., police sergeant was seen barbecuing with his close friend and neighbor. Six days later, the two men were found dead together.
But how they died remains a mystery.
Dearborn Heights officer John Burdick, 46, and James McEwen, 45, were found on the floor of the garage at a home in the 8500 block of Lochdale, Michigan State Police First Lt. Michael Shaw told the Detroit Free Press.
The men, who were known to be friends, suffered no obvious signs of trauma, there were no signs of foul play and police have ruled out carbon monoxide poisoning and a murder-suicide, Shaw said.
Autopsies were performed on Burdick and McEwen over the weekend, but the results were inconclusive, according to the Wayne County Medical Examiner's Office.
The case remains a homicide investigation, until proven otherwise.