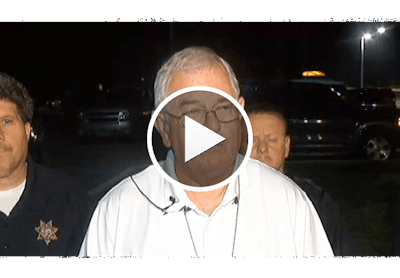 VIDEO: South Carolina Deputy Shot by Masked Man
Berkeley County (S.C.) Sheriff's Lt. Will Rogers is out of surgery, and in critical but stable condition after suffering multiple gunshot wounds late Thursday night, a spokesperson with the Medical University of South Carolina confirms.
Rogers was airlifted to MUSC around 11:30 p.m. and taken into emergency surgery after he was shot multiple times by a masked suspect in Moncks Corner, S.C. Hospital officials announced just after 7 a.m. that Rogers was out of surgery and moved to the ICU, reports WCSC.
Berkeley County Sheriff Butch Henerey said during an early Friday morning press conference that SLED and Moncks Corner Police are continuing to search for the suspect who shot Rogers, a night shift supervisor, and then carjacked a vehicle and subsequently left it wrecked in a ditch.
Henerey said Rogers pulled into an Exxon gas station at Old Highway 52 and Cypress Gardens Road around 10:30 p.m. and as he was talking to a customer in the parking lot, the masked suspect came around a corner and shot Rogers from behind.