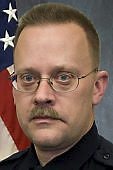 An off-duty Elk River, Minn., police officer and his son were shot dead Saturday night in St. Michael, Minn., and another of the officer's sons has turned himself in, authorities say.
Wright County sheriff's office deputies found Blake Besser, 27, dead of a gunshot wound in the home he shared with his brother, Christopher Besser. Deputies found Officer Todd Besser, 49, of Otsego, in the basement, also shot dead, police said in a news release Sunday.
At 7:45 p.m. Christopher Besser, 21, called 911 saying he was at the Kwik Stop gas station at 318 W. Broadway in Monticello and wanted to turn himself in. Deputies took him into custody without incident, police told TwinCities.com.