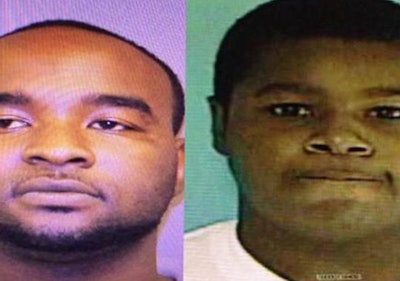 The man charged with two counts of capital murder in the Saturday night shooting deaths of two Hattiesburg, Miss., officers was denied bond Monday afternoon.
Marvin Banks, 29, a convicted felon who was free on two separate bonds on a pair of previous charges, was one of four suspects connected to the slayings of patrolmen Benjamin J. Deen and Liquori Tate appearing before Forrest County Justice Court Judge Gay Polk-Payton, USA Today reports.
Joanie Calloway, 23, who originally had been charged with two counts of capital murder, faced Monday one count of accessory after the fact of capital murder.
It was the same charge against Banks' younger brother, Curtis, 26.
The fourth suspect, Cornelius Clark, 28, had been charged with rendering criminal assistance/hindering prosecution for helping Marvin Banks elude the widespread search that ended at the Northgate Inn on U.S. 49 early Sunday morning.
Marvin Banks had been free on bonds related to possession of controlled substance and possession of a firearm when Saturday's shooting took place.
Accused shooter Marvin Banks has mental problems and is addicted to drugs, appearing high in photos after he was arrested, his mother said Monday.
Mary Smith said her son Marvin smoked "spice" daily and had been hearing voices ever since he was attacked and hit in the head with a pipe several years ago.
Smith told the Associated Press that she has no doubt that Marvin killed the officers.
Deen, 34, a six-year veteran of the force who also was a K-9 officer, was named Officer of the Year in 2012.
He left behind a wife and two young children.
Tate, 25, was a graduate of the 16-officer, Hattiesburg Police Academy Class No. 30 in 2014. He earned the class's "Top Shot Proficiency Pistol Award."
Tate had been on patrol for less than a year.