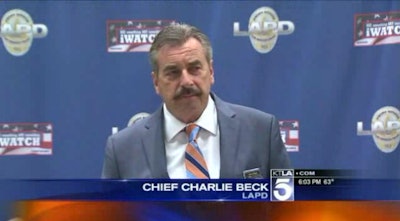 Los Angeles police Chief Charlie Beck said Wednesday he was "very concerned" by an officer's fatal shooting of an unarmed homeless man in Venice Beach, Calif., saying he had not yet seen any evidence that would justify the shooting, reports the Los Angeles Times.
Beck said he had reviewed a security tape showing the incident, but did not detail what it showed. He cautioned that the investigation was still in its early stages, but said that so far, "I don't see the supporting evidence that I normally would."
"Any time an unarmed person is shot by a Los Angeles police officer, it takes extraordinary circumstances to justify that," he said. "I have not seen those extraordinary circumstances at this point."
Beck said the LAPD would host a town hall meeting in Venice on Tuesday to discuss the incident.
The man, whom friends said was known by the nickname "Dizzle," was described as a transient. He was in his 20s, L.A. County coroner's officials said. Police were reportedly called by an employee at a business who said the man was harassing customers.