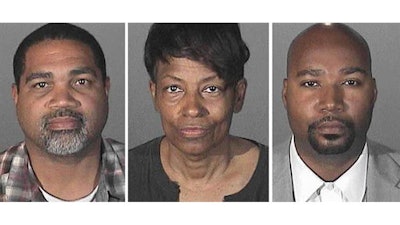 An aide to California Atty. Gen. Kamala D. Harris and two others are accused of operating a rogue police force that claimed to exist for more than 3,000 years and have jurisdiction in 33 states and Mexico, authorities said Tuesday.
Brandon Kiel, David Henry and Tonette Hayes were arrested last week on suspicion of impersonating a police officer through their roles in the Masonic Fraternal Police Department, according to the Los Angeles County Sheriff's Department.
Kiel, 31, has worked as the deputy director of community affairs at the California Department of Justice. An office spokesman declined to comment on the criminal investigation but told the Los Angeles Times Kiel is on administrative leave.
Suspicions about the Masonic Fraternal Police Department were aroused when various police chiefs in Southern California received a letter in late January that announced new leadership for the group, sheriff's officials said.
After the letters were mailed, a man claiming to be Kiel and describing himself as the police force's "chief deputy director" called various law enforcement agencies to schedule in-person meetings, sheriff's officials said.
Following an investigation, officials said, sheriff's investigators searched two sites in Santa Clarita and found badges, weapons, uniforms and law enforcement paraphernalia.
On its Website, which is mostly password protected, the Masonic Fraternal Police Department claims to have been founded by the Knight's Templar in 1100 B.C. The Knight's Templar were actually established in or around 1119 A.D. after the Crusaders took control of Jerusalem.
The purpose of the Masonic Fraternal Police Department as stated on its Website is to: "provide services to Masonic Sovereign Grand Masters and their Masonic Jurisdictions, as well as other Fraternities, Sororities and Greek Organizations. Masonic Fraternal Police Department will be located in 33 other states, including Mexico City. We support all law enforcement agencies. Our mission is to preserve the integrity, honor and legacy of our Founding Fathers, Masonic Organizations, all Grand Masters and their Constitution /By Laws. We will uphold our sworn obligation to protect Sovereign Grand Masters and their jurisdictions."