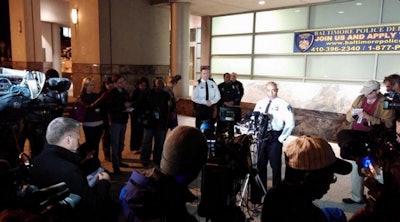 In a late Monday night press conference, Baltimore Police Commissioner Anthony Batts said six officers seriously injured in the rioting are expected to recover.
Batts blamed the rioting on high school students who "thought it was cute to throw cinder blocks at police."
The police chief insisted the main instigators of Monday's violence were local "youthful residents" who "came out of a local high school" and "outnumbered and outflanked" police.
"Take control of your kids," Batts urged parents in closing. "This is our city. Let's make a difference."
The commissioner was responding to a question referencing a viral video purporting to show a mother physically striking her son for participating in the riots, the Hill.com reports.