VIDEO: Woman's Thank You Note Touches Two Police Departments
Last month Lauren Talbert, a San Jose, Calif., native who now lives in Denver, walked out of church and saw a Denver officer's patrol car, took a scrap of her church bulletin, wrote a note, and left it wedged in the driver side door to find.
When Denver PD Lt. Dik Dushkillian returned to his car and saw that note, he approached it with some trepidation, expecting it to be something nasty. It wasn't.
"It was very touching, a very sweet note that said basically thank you," Kushdilian told KTVU TV.
The note read: "Dear Officer, I'm from San Jose. We lost an asset to an amazing team last week. Thank you for your risking your life every day for my safety. God Bless, Lauren."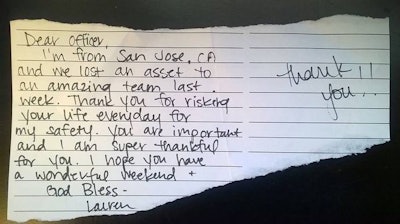 Talbert's note referenced the March 25 killing of San Jose officer Michael Johnson, who was ambushed responding to a call about a despondent man.
For weeks, Denver Police took to social media hoping to find Lauren to personally thank her. The note went viral. They then enlisted the help of San Jose Police. It had special meaning for them since Lauren mentioned Officer Johnson.
"She mentioned him as an asset," said Sgt. Enrique Garcia of San Jose Police. "Wow, that is pretty deep."
On Wednesday, San Jose-based KTVU connected Lauren, 27, with San Jose Police, surprising both of them.
"I'm glad we got a chance to meet right now via FaceTime," said Sgt. Garcia. "Thank you so much. You are awesome. The entire San Jose Police Department is grateful."