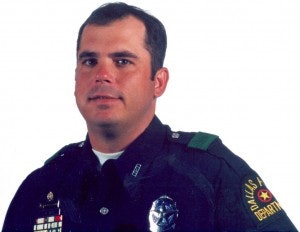 Licho Escamilla was put to death by the state of Texas Wednesday for the November 2001 murder of Officer Christopher Kevin James of the Dallas Police Department.
James and three other uniformed officers were working off-duty at a local club when a brawl involving Escamilla and other men started. Escamilla pulled out a gun and opened fire on the officers as they tried to break up the fight.
The bullets from Escamilla's 9mm semi-automatic handgun struck James twice, knocking him to the ground. Escamilla then calmly walked up to the officer and fired three more shots into the back of his head before running and exchanging shots with other officers, witnesses said. A second officer wounded in the shootout survived.
Escamilla was 19 at the time of the murder. He was executed at 33.
About a half-dozen Dallas police officers stood at attention and saluted as relatives of the slain officer entered the prison in Huntsville ahead of Wednesday's execution.
James, 34, had earned dozens of commendations during his nearly seven years on the Dallas police force after graduating at the top of his cadet class. He was working the off-duty security job to earn extra money so he and his new wife could buy a house, CBS News reports.