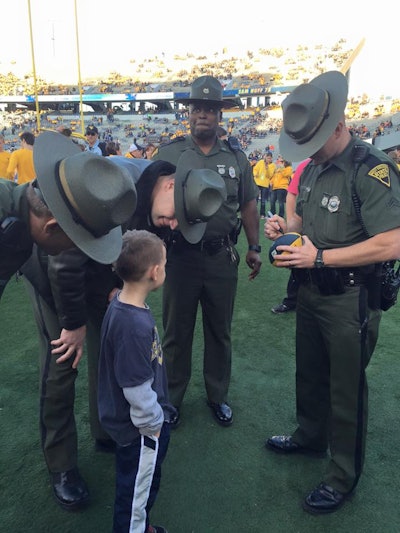 This past Saturday a little boy in Morgantown, West Virginia, set an example that the rest of the nation would do well to follow.
While dozens of other children were busy clamoring for the autographs of twenty-year-old student-athletes at Mountaineer Field on the campus of West Virginia University, one little boy named Braedon did something extraordinary — he took his blue and yellow West Virginia football to a group of West Virginia State Troopers tasked with ensuring crowd control and asked for their autographs.
"They were lined up at the bottom of the steps and he was so nervous and he stopped and saluted them all. It melted my heart," his mother, Dreama Crowder Mullins told Appalachian Magazine.
According to Mullins, a few minutes after getting the autographs from West Virginia's finest, Wendell Smallwood, the Mountaineers' all-star running back passed by and she asked her son if he wanted to get his autograph.
Braedon's response, "No, mommy, he isn't a trooper."