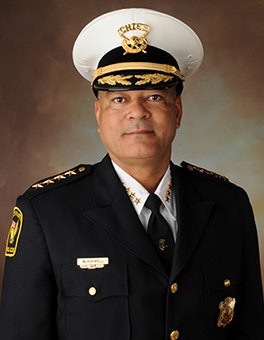 The city of Cincinnati fired its police chief Wednesday after months of criticism and missteps — a botched anti-crime plan, low morale in the officer ranks and a travel schedule that earned Jeffrey Blackwell the nickname "ghost."
Blackwell's firing comes in the wake of the police union calling a special meeting for Monday where it planned to take a vote of no confidence in the chief.
Blackwell was called to City Hall on Wednesday morning when City Manager Harry Black, along with a representative from human resources, fired Blackwell, USA Today reports.
"My concerns regarding Mr. Blackwell's leadership of the Cincinnati Police Department ("CPD") are not new," Black said in a memo announcing the firing. "Mr. Blackwell has not provided the necessary leadership to ensure a cohesive operating environment within the department. As such, morale is at an unprecedented low level, and the general sentiment throughout the department is that Mr. Blackwell's leadership style has created a work environment of hostility and retaliation."