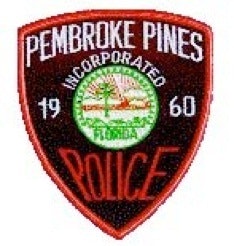 Arby's says it has apologized to Florida's Pembroke Pines Police Department after an employee at one of the fast-food chain's locations allegedly refused to serve one of the department's police officers.
Pembroke Pines police says one of their officers was initially refused service at an Arby's location in town on Tuesday evening when trying to order food at the restaurant's drive-thru. The officer was in uniform and in a police vehicle, according to a police report filed on the incident.
When the officer drove to the pickup window, the store manager, Angel Mirabel, told the officer that the clerk "doesn't want to serve you because you are a police officer." Mirabel had to order the clerk, identified as 19-year-old Kenneth Davenport, to process the officer's credit card.
Major Carolos Bermudez told USA Today the employee did not specify why he or she might have had any animosity against police. Davenport told CBS Miami that he didn't serve the officer because he was busy helping other customers. He said that the misunderstanding was the result of Mirabel trying to make a joke that did not go over well.
Bermudez said Arby's CEO Paul Brown and Senior Vice President of Operations Scott Boatwright called Police Chief Dan Giustino on Wednesday morning and apologized.
The Broward and Dade County Police Benevolence Association said an apology was not enough and called on supporters to boycott Arby's until the company fires the employees.
"This is yet another example of the hostile treatment of our brave men and women simply because they wear a badge," PBA president John Rivera said. "It is unacceptable and warrants much more than an apology."