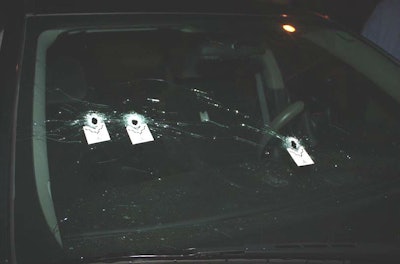 Using a laser sight, someone opened fire on deputies Tuesday night as they patrolled an area of Marrero, La., known for drug activity, according to Jefferson Parish Sheriff Newell Normand.
At about 9:30 p.m., members of the Street Crimes Section were patrolling the area of James and Jordan drives in an unmarked unit when they saw several males standing near a tree in a vacant lot near Charleston Street.
When officers made eye contact with the individuals, deputies said they began to act suspiciously. As the officers drove around the block to approach the subjects through the open lot, they saw two of the males walking away from them on James Drive. The subjects turned into an alley between James Drive and Charleston, and the officers lost sight of them.
When they returned to the the open lot from James Drive, officers saw a red laser beam fixed on their windshield and a subject in the lot near the Charleston Street side pointing a gun at them, Fox 8 Live reports. As the officers prepared to get out of the car, the subject opened fire. One round went through the windshield of the unit, striking the center of the driver's seat. A second round struck the driver's door as the officer driving the unit was getting out.
Officers returned fire, and the gunman continued to shoot, the Sheriff's Office said. The subject fled and the officers pursued him on foot, but he managed to escape.