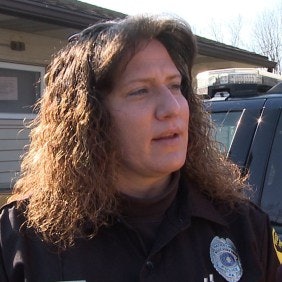 Pennsylvania State Police in Schuylkill County are searching for the person they believe assaulted a West Penn Township police officer.
Local officials say a female police officer was assaulted after a traffic stop off Route 309 while on duty Wednesday evening on Blue Mountain. State police joined West Penn Township officers, searching for suspects.
Hospital officials at Lehigh Valley at Cedar Crest identified the officer as Sgt. Melissa Ruch.
Ruch was reportedly thrown down the bank during the assault.
"Her shirt is like sliced from--we don't know what it's sliced yet from," Trooper David Boehm told WNEP TV. "The person that we're looking for is a Hispanic male, 6'2" to 6'4", 240 to 260 pounds. He was wearing a black t-shirt and blue jeans, the kind that go way down below your knees and possibly in a dark colored Nissan Maxima."
After the assault, witnesses say Ruch was transported to a hospital in a helicopter.