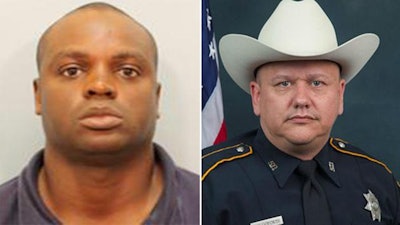 The man charged with the ambush murder of a Texas sheriff's deputy reportedly has a history of mental illness and one of his court-appointed attorneys says he will plead not guilty to the charges.
Shannon J. Miles is being held without bond in the Harris County Jail in the murder of Deputy Darren Goforth Friday night.
The Associated Press reports Miles' criminal history dates back to 2005 and includes an arrest in Austin in 2012 that led to Miles being sent to a state mental hospital for several months.
In 2012, the Travis County District Attorney's Office charged Miles with aggravated assault with a deadly weapon after he got into a fight at a homeless shelter over a remote control, prosecutor Joe Frederick said. Miles was found to be mentally incompetent in October 2012 and he was sent to North Texas State Hospital in Vernon, Texas.