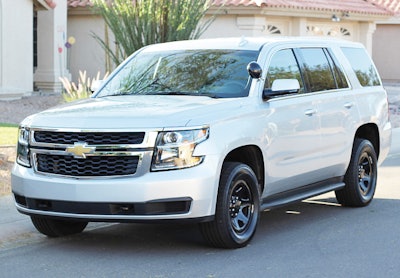 The ability to take the heat off hard-working police dogs helps make the Chevrolet Tahoe Police Patrol Vehicle (PPV) one of the most popular police vehicles for K-9 units.
Law enforcement experts say the roomy interior and advanced climate control system are well suited for all three components of a K-9 unit: the police officer, the police dog, and the vehicle they travel in.
"Our K-9s live with our deputies and their families. They are on duty with our deputies every day, responding to calls for service, training, and creating an unbreakable bond," said Oakland County (Mich.) Sheriff Michael J. Bouchard. "The K-9 Unit is an invaluable tool that serves our community and the Tahoe PPV is an important part of our operation."
Because dogs are vulnerable to heat, the Tahoe PPV has more heating and cooling vents in the vehicle's third-row area than any other police utility vehicle, according to Chevy. In the Tahoe PPV, the seat is eliminated to make room for the K-9 unit's kennel. This allows the industry's only third-row upper and lower air vents to circulate cooled air into the back of the vehicle.
"Heat exhaustion is one of the top killers of police dogs," said Michael Werges, sergeant-at-arms of the North American Police Dog Association.
Unlike humans, dogs aren't covered in skin that allows them to sweat when temperatures get too high. The tiny pads of exposed skin on the bottom of their paws are the only way they can remove heat.
There have been a few instances this summer of police dog fatalities because of extreme heat.
"It's imperative to police agencies that K-9 vehicles are equipped with an air conditioning system that can keep the dog's entire body cool, from head to toe," said Werges.
In addition to K-9 use, state and local municipalities and the federal government use the Tahoe PPV for patrol, first response, tactical, and HAZMAT operations.