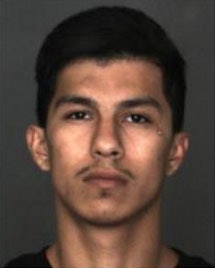 A 21-year-old San Bernardino, Calif., man was run over by a Colton Police squad car after he led officers on a chase and pulled out a gun, police said.
Issac M. Ornelas suffered head injuries and a broken leg in the crash, said San Bernardino police Sgt. Vicki Cervantes. Ornelas remained hospitalized Friday morning.
The incident began at 12:36 a.m. Friday, Aug. 21, while he was driving a white Cadillac Escalade along South Mt. Vernon Avenue in Colton, where Colton police spotted him swerving between lanes and attempted to pull him over.
A brief car chase through a residential neighborhood hit 65 mph.
"As he drove north in the 700 block of South J Street, he slowed down, opened the driver's door and exited the moving vehicle," Cervantes said in a written statement. "As he exited, ... officers and a witness observed Ornelas holding a handgun," the Press Enterprise reports.
That's when the officer, fearing for his life, drove into and over the suspect, Cervantes said.
A loaded -- and stolen -- handgun was recovered at the scene.