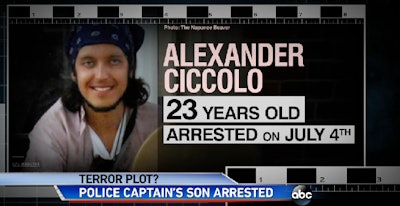 Alexander Ciccolo, son of Boston Police Capt. Robert Ciccolo, was arraigned Wednesday on federal charges and on assault and battery with a deadly weapon and felon in possession of a firearm charges connected to his July 4 arrest by the Joint Terrorism Task Force, one of nearly a dozen potential plots that FBI Director James Comey said were thwarted around Independence Day festivities and the Muslim Ramadan holiday.
Ciccolo, 23, told the court he pleads not guilty to the charges contained in the indictment, ABC News reports.
"He dedicated himself to killing as many innocent people in the United States as he could," Assistant United States Attorney Kevin O'Regan said at Ciccolo's detention hearing, which came more than a week after he purchased two powerful rifles and two handguns from a FBI cooperating witness on the Fourth of July. He slung the duffle bags full of guns over his shoulder and was arrested as he walked into his Adams, Mass., apartment in the Berkshires.
Investigators said Ciccolo was building 10 firebombs using Styrofoam soaked in motor oil because the concoction "would stick to the victims' skin and make it harder to put out." He also allegedly made plans to bomb a university cafeteria and bragged to a cooperating witness that he would execute students live on the Internet in ISIS-inspired barbarism.
He had been under constant surveillance since September 11, 2014 when, several law enforcement officials said, he sent "alarming text messages" to his father, who had become a police captain in the Operations Division of the Boston Police. In one text message he told his father that America is "Satan." Others stated that his Islamic faith "is under attack" and that he was "not afraid to die for the cause!"
The police captain contacted the FBI saying that his son had become "obsessed with Islam" 18 months earlier. Capt. Ciccolo has cooperated with investigators assigned to the Joint Terrorism Task Force since, senior BPD commanders told ABC News.