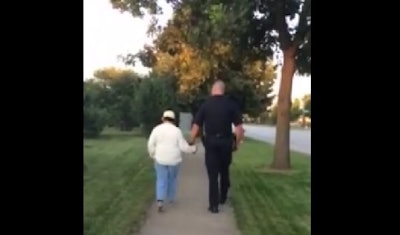 A video of a Bloomingdale, Ill., Police Officer helping a mentally disabled woman has touched the hearts of thousands of people online.
The Bloomingdale Police Department responded to a call where a 21-year-old mentally disabled woman had wandered away from her home. Officers found her walking along the roadway, adding that she was "visibly scared and upset and would not come with the police," WAGA TV reports.

After telling police she just wanted to "walk the trails," Bloomingdale police officer Giovenco walked the "trails" with her and calmed her down.

"She then agreed to walk back to her home, and Officer Giovenco held her hand the whole way.
The entire post is on the Bloomingdale Police Department Facebook page.