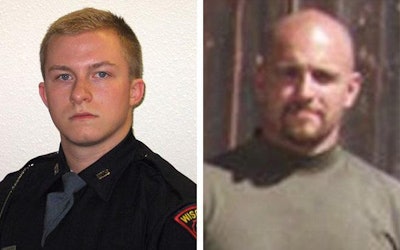 It was near the end of his first solo shift on March 24 when Wisconsin State Trooper Trevor Casper faced a life-or-death decision. After following a suspect into the city, he was ambushed by Steven Snyder of Michigan, a serial bank robber responsible for at least nine holdups in three states. Just hours earlier, Snyder had robbed a Wausaukee bank and murdered another man.
Snyder started shooting while both men were still in their vehicles.
The gunbattle lasted only about 17 seconds. During that time, a heavily armed Snyder fired nine times and Casper, who was struck three times, fired 12 shots, Fond du Lac County District Attorney Eric Toney said Thursday, the Milwaukee Journal Sentinel.
Mortally wounded, Casper, 21, killed Snyder with just one shot in what was "no doubt" a justifiable trooper shooting, Toney said.
"Trevor Casper did more in 17 seconds than most will do in a lifetime and is undeniably a hero," Toney said at a Thursday news conference, where he was joined by Wisconsin State Patrol leaders.