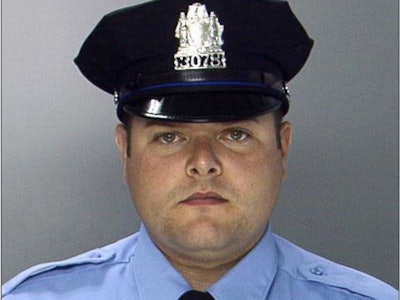 Federal and local authorities are continuing to investigate a tipster's claim that Edward Archer, the man charged in the shooting of Philadelphia Police Officer Jesse Hartnett, was part of a small group of men with radical beliefs, officials said Monday.
Homicide Capt. James Clark said that after a weekend of investigating, authorities have been unable to substantiate the tip, delivered to police by a woman who warned that "the threat to police is not over," and said Archer was associated with a group of three other men more radical than he, reports the Philadelphia Inquirer.
"We're investigating it, but we haven't found anything yet," Clark said.
He and other officials said they take such information seriously and are actively investigating Archer and his background.
Archer, 30, of Yeadon, ambushed the officer late Thursday, emptying the magazine of a stolen 9mm police firearm into Hartnett's patrol car and hitting him three times in an arm. Archer later confessed to carrying out the shooting "in the name of Islam," and told investigators he had pledged allegiance to the Islamic State.
The department's Homeland Security Unit and the FBI's Terrorism Task Force are working on the investigation.
In response to Saturday night's tip, the department ordered all officers to patrol in pairs until further notice.