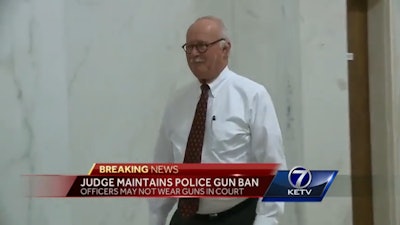 Late Friday, Douglas County (NE) District Court Judge James Gleason issued an order, affirming his ban on police carrying guns into court, even as part of their uniform.
"I think it is a sad situation if our law enforcement personnel identify themselves, not by their presence, but rather by the presence of their firearms," Gleason wrote in the order.
The question dates back to December, when Omaha police officers refused to take the stand without their firearms during a hearing on a motion to suppress evidence.
Gleason postponed the proceeding and sought input from the Omaha Police Department and city attorneys.
"They're on-duty, sworn law enforcement officers," Schmaderer told KETV NewsWatch 7 after the meeting with Gleason. "They're trained to react in the event their services are needed to protect the public, and that can happen in the confines of a courtroom or that could happen in the confines of walking to their car."
In his ruling, Gleason noted the Douglas County Sheriff's Office is the only agency charged with courthouse security.
The county judge also held up Omaha's federal courthouse as an example.