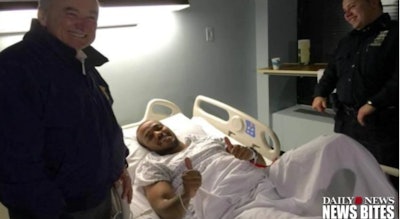 An NYPD officer was shot in the leg Saturday in a wild gun battle in the Bronx that ended with the wounded cop shooting the suspect four times, police said.
The shootout erupted at 2:10 a.m. after Officer Sherrod Stuart, 25, arrived at the scene of a massive street fight in Mott Haven involving combatants armed with guns, knives and bats, police said.
More than 15 rounds were fired as Stuart, who was shot in his right ankle, and other officers exchanged fire with Christopher Rice, 19.
Struck by Stuart's bullets in the neck, abdomen, thigh and hand, Rice was taken to Lincoln Hospital in serious condition.
Rice got into the gunfight just three hours after he was released from jail following an arrest on a fare-beating charge, police told the New York Daily News.