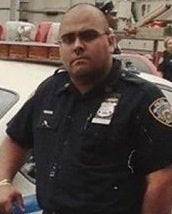 An officer died of a heart attack as he brought bicycles to an NYPD driver training facility in Brooklyn last Tuesday morning, authorities said.
Police Officer Juan Feliciano, 44, was on duty when he suffered a heart attack and collapsed at Floyd Bennett Field after dropping off the bikes shortly after 10 a.m., police sources said.
He was rushed to Lutheran Medical Center but doctors couldn't save him, reports the New York Daily News.
The 21-year veteran officer is survived by his wife and two children.