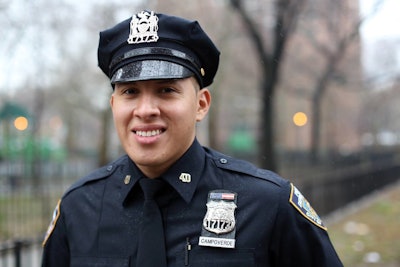 An NYPD officer was out Christmas shopping with his family when he saw a man who wanted to kill himself — and he used the best technique he could think of to save his life: a hug.
Officer Christian Campoverde of the 40th Precinct in The Bronx said he was on an escalator with his family when the man pushed past them at the Queens Center Mall on Dec. 20. The man was muttering that he wanted to end his own life, reports the New York Post.
The officer charged up the escalator steps and caught up with the emotionally disturbed man just as he was headed to the third-floor railing.
"I grabbed him by the waistband and said, 'My name is Officer Campoverde. Can we talk?'" he recalled.
Remembering a key lesson he'd learned only a week earlier at a Crisis Intervention Team Training session, Campoverde quickly changed his tone.
"My name is Chris," he told the man. "I don't know what you're going through, but I know it must be pretty bad, but trust me, it's not worth it.
"Is it OK if I give you a hug? Do you want a hug?" the officer asked.
The man said yes and embraced Campoverde, breaking down in tears.
Officers from the NYPD's Strategic Response Group stationed at the mall helped Campoverde subdue the man, who was taken for psych evaluation, the New York Post reports.