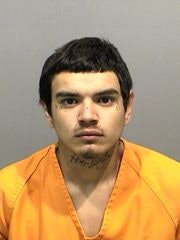 Aurora, CO, Police said an officer who was involved in a shooting Thursday evening in Denver unintentionally shot the suspect.
The Aurora officer was assigned to the Metropolitan Auto Theft Task Force and was working with several agencies on an investigation of an auto theft ring out of Commerce City.
Two Aurora Police officers with the Auto Theft Task Force were watching a suspect vehicle, a white Honda Civic, and followed it into a UPS parking lot.
According to Aurora Police, a suspect left the Honda Civic and entered a black Acura, which then drove out of the parking lot.
Officers followed the Acura several blocks. After crossing into Denver, the officers performed a PIT maneuver in order to stop the pursuit. The Acura made an evasive move and ended up on a snowbank.
An Aurora officer exited his car, drew his gun and told the suspect to exit the stolen vehicle. The officer identified himself.
According to authorities, the officer then lost his footing or slipped on ice and unintentionally fired a shot, hitting the suspect who was later identified as Christopher Padilla, 20. Padilla was hit in the chest but is expected to survive, 9 News reports.