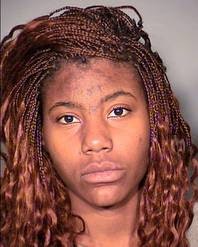 A 24-year-old woman who'd been living in a car with her 3-year-old daughter in Las Vegas killed one person and injured nearly three dozen others Sunday evening when she steered the vehicle onto a crowded Strip sidewalk at least twice, authorities said.
Clark County Sheriff Joe Lombardo said this morning that officials were still unclear why the driver, Lakeisha N. Holloway, allegedly plowed into pedestrians on the Strip. Lombardo said that although he did not believe the tragedy was an act of terrorism, that possibility hadn't been completely ruled out, pending a more extensive review of Holloway's background.
Speaking at a news conference carried live by CNN, Lombardo described a horrific scene in which pedestrians were struck by the car while others jumped on the vehicle, pounded on the windshield and tried to open the doors in an attempt to subdue Holloway. The Clark County coroner identified the woman who died as Jessica Valenzuela, 32, of Buckeye, Ariz., and officials said 35 pedestrians were injured, the Las Vegas Sun reports.
.