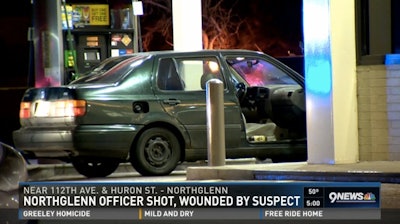 VIDEO: Colorado Officer Shot at Traffic Stop, Saved by Vest
Northglenn, CO, police say an officer was treated and released after being shot multiple times early Saturday morning. The officer's body armor prevented any serious injury.
The incident started around 1:10 a.m. at 112th Avenue and Huron Street at a Diamond Shamrock gas station.
Two officers were conducting a traffic stop when a person got out of a vehicle and began firing at one of the officers, striking him multiple times.
The officer returned fire, striking the suspect. The suspect was transported to a local hospital where he remains in critical condition, KUSA TV reports.