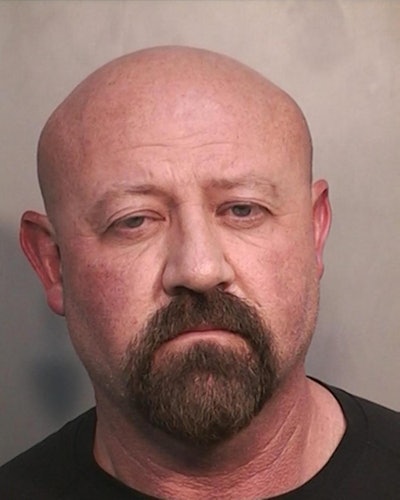 Police on Long Island, acting on a tip that a man was impersonating a federal agent, stopped an SUV Thursday morning and found the driver had a fake federal air marshal ID in one pocket, a .380-caliber pistol in the other, and body armor and a loaded AR-15 in his back seat.
Seven illegal firearms, three high-capacity magazines, and 8,300 rounds of ammunition were also found in 49-year-old Marc Vicars' SUV and Syosset home after an exhaustive search, police confirmed.
"At this time we don't see any immediate threat to the public," Nassau County Police Department spokesman Det. Lt. Richard LeBrun told reporters.
Investigators are currently reviewing Vicars computer and web traffic.
"We don't see any nexus to any terrorism at this time," LeBrun said, adding that no anti-American literature or links to terrorism were found at his home.
Officers were following up on the tip and surveilling Vicars' 2014 Dodge Durango — which was tricked out to look like an undercover emergency vehicle — about 7:40 a.m. Thursday when they pulled him over for a traffic violation on Jericho Turnpike near South Oyster Bay Road, the New York Daily News reports.
Vicars immediately activated his police flashing lights, pulled over, and showed the officers his fake badge, officials said.
Vicars said nothing as he pleaded not guilty on multiple weapons possession charges at Nassau County Criminal Court Friday afternoon, where he was ordered held on $300,000 bail.