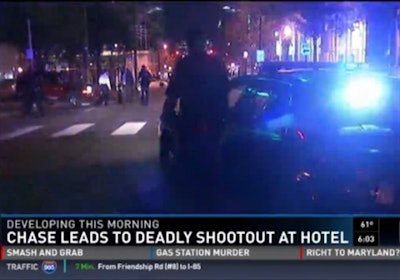 VIDEO: Atlanta Police Fatally Shoot Suspect in Downtown Gun Battle
Atlanta Police say one person died after an officer-involved shooting in downtown Monday night.
The incident happened on Ted Turner Drive near Baker Street just before 8 p.m. outside the Aloft hotel.
Atlanta police said that officers saw a vehicle driving the wrong way on Ted Turner Drive. As officers made a U-turn to make a traffic stop, the wrong-way vehicle was involved with a crash at Ted Turner and Ivan Allen Blvd.
Police said two men jumped out of the vehicle after the crash and began to run. The driver was apprehended at Williams Street and Ted Turner Drive. The second man ran behind the Aloft hotel with a handgun, police said. He then allegedly began shooting at officers, who returned fire. The suspect was shot multiple times and died, WXIA TV reports.
No officers were injured.