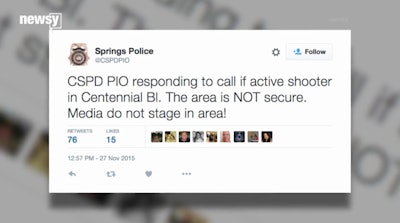 A man wearing hunting gear and armed with a long gun was barricaded inside a Planned Parenthood clinic in Colorado Springs Friday after repeatedly opening fire on police, wounding four officers and an unknown number of civilians, police said.
Police said Friday afternoon that they were still trying to determine exactly where the gunman was holed up inside the building.
"We don't have the suspect yet, and we still consider this an active situation," said Lt. Catherine Buckley, spokesperson for the Colorado Springs Police Department.
Buckley confirmed that four officers were wounded, but did not give details on their condition. She also said an unknown number of civilians had been injured. She told USA Today the primary task of officers was to locate the gunman and to get medical help to the injured.