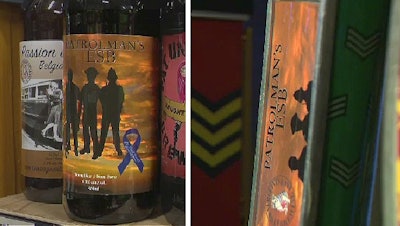 It's not a brew that will be available at every liquor store, but word is spreading quickly about an Edmonton, AB-produced craft beer being made in memory of a fallen police officer.
Two Sergeants Brewing Co. says the launch of Patrolman's English-Style Bitter in honour of Const. Daniel Woodall has been so successful, staff have had to work extra hard to keep up with demand.
Woodall, 35, was fatally shot on June 8 after he and other officers responded to a hate crimes-related call in the city's west end.
More than a week later, he was laid to rest and after that, a few of his friends went to the nearby Craft Beer Market and hoisted a pint in his memory — a tradition from his home country of England.
That moment got local beer makers thinking about a way to honour him, and it was decided a beer seemed like a perfect tribute.
Two Sergeants Brewing, run by a pair of former military men, jumped at the chance to pay tribute to the fallen officer.