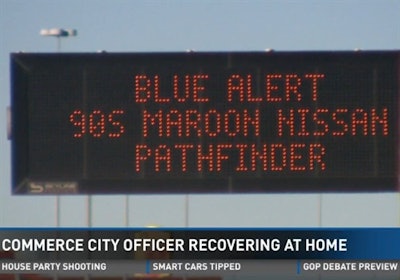 VIDEO: Vest Saves Colorado Officer in Sunday Morning Shooting
A Commerce City, CO, police officer is home with his family recovering after being shot in the chest during a traffic stop Sunday morning.
"The suspect was in close proximity to the officer and [so he] still [had] serious injuries even though the vest stopped the round, there is significant trauma that occurs to the body when the bullet strikes it," Commander Dennis Moon of the Commerce City Police Department told KUSA TV.
A "Blue Alert" was issued to help find the suspect. Drivers on the highway were alerted to be on the lookout for a late-1990s model maroon Nissan Pathfinder with a possible license plate of 679-UNZ or 697-UNZ. The driver of the vehicle is believed to be the one who shot a Commerce City Police officer just after 7 a.m. Sunday in the 9700 block of Peoria Street.