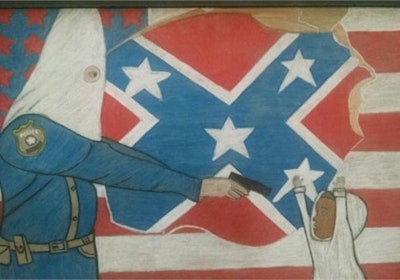 Responding to criticism by the Colorado Fraternal Order of Police to her painting that depicted a white police officer wearing a Ku Klux Klan hood pointing a gun at a black child being entered in a city-sponsored student art contest, the artist has withdrawn the work.
The Denver school district's communications chief, Nancy Mitchell, said the girl immediately asked to take her painting out of the award show when she shared the criticism with her.
"She's passionate about her art, but didn't want to make trouble," Mitchell told the Associated Press.
According to a statement from the school district and the city, the student's assignment was to take inspiration from historic works and place them in the context of contemporary issues. She chose the Spanish master Francisco de Goya's "The Third of May 1808," a 19th-century statement against tyranny that shows a firing squad executing a group of captured rebels; and New York artist Michael D'Antuono's painting "A Tale of Two Hoodies," which is similar to hers, but shows the young boy offering candy to the gun-wielding officer.