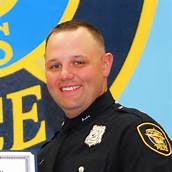 A Fort Worth police officer, who was critically wounded last week in a gun battle with a wanted man, has suffered a serious set back in his recovery..
In a post Tuesday on Officer Matt Pearce's GoFundMe page attributed to the officer's wife, she wrote:
"Update: I am having a hard time posting this as I have yet to inform all our family of Matt's status but I feel prayers are needed now for Matt. We suffered a pretty big setback. Matt's abdominal incision came completely open during a coughing fit he had. Likely the fact that his gut was full of air contributed to this. He ended up having surgery and they cleaned out his gut and his abdominal cavity. To give him the best chance of healing, the doctor chose to leave his incision open with a wound vac and they will close it up in another day or so. Also, they did confirm he aspirated and they were able to do a bronchoscopy and wash out his lungs. Thank the Lord they didn't take out his breathing tube today! Thank the Lord they were able to clean out his lungs! He will likely be back on sedation but I'm okay with that for now. Please now pray for his electrolytes as his numbers were off before this and pray that despite surgery they will improve. Also pray for infection to stay away and that the doctors will be able to close his belly without further complications. I love you all for praying for my husband and that he will be able to kiss his girls again. We were also able to bless Matt's surgeon with an oreo cupcake too."
Officers were trying to arrest Ed McIver Sr. last Tuesday, on aggravated assault charges and for jumping bail, when gunfire broke out as he fled with his adult son. McIver Sr. was killed by police. Pearce was wounded.
The suspect's 20-year-old son, Ed McIver Jr., was arrested and remains jailed on charges of attempted capital murder, evading arrest, unlawful carrying of a weapon and drug possession, CBSDFW reports.